Our way for drying

is special.

More fast.
More reliable.
More gentle.
More safe.
More Innovation

for your Product
Pharmaceuticals and medical devices, packed or non-packed, are highly sensitive goods requiring very careful and, particularly, stress-free processing and production. Top quality drying spells higher quality and reliability.
Heat pump based condensation drying is the solution to your drying challenge.
If you want to know why our way of drying is good for you or your customer, how it works and which drying systems we build you may find elucidating information on the pages below.
Its alternative physical approach combines seemingly conflicting features such as low temperatures, short drying times and best results.
Our drying solutions are also suitable for the controlled drying of medical cannabis – efficient, safe, GMP ready. For high quality Results and constant Processes.
Read More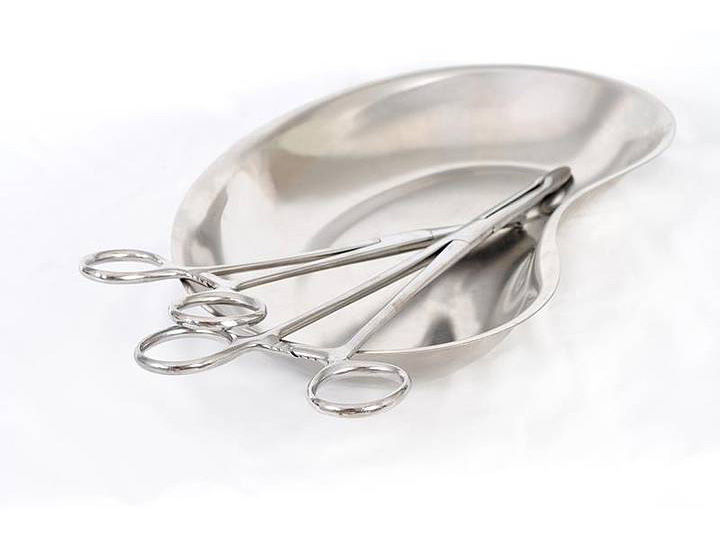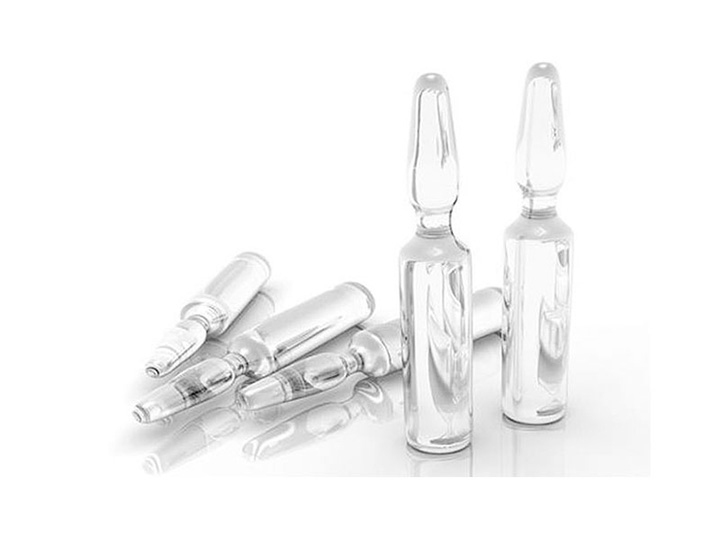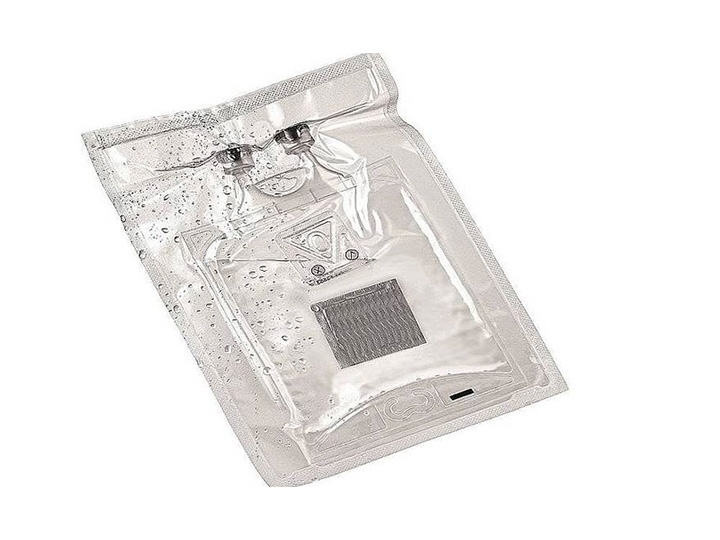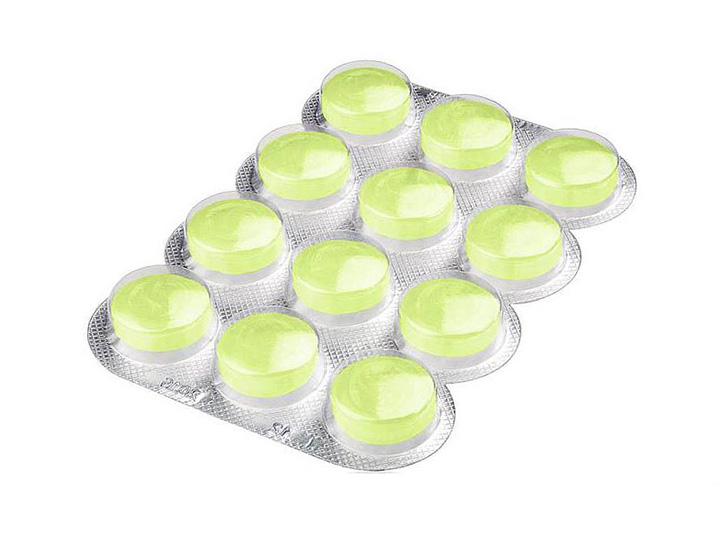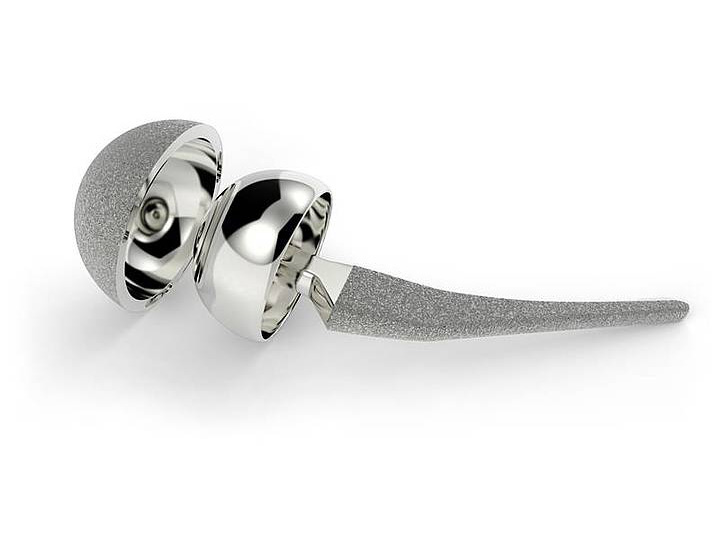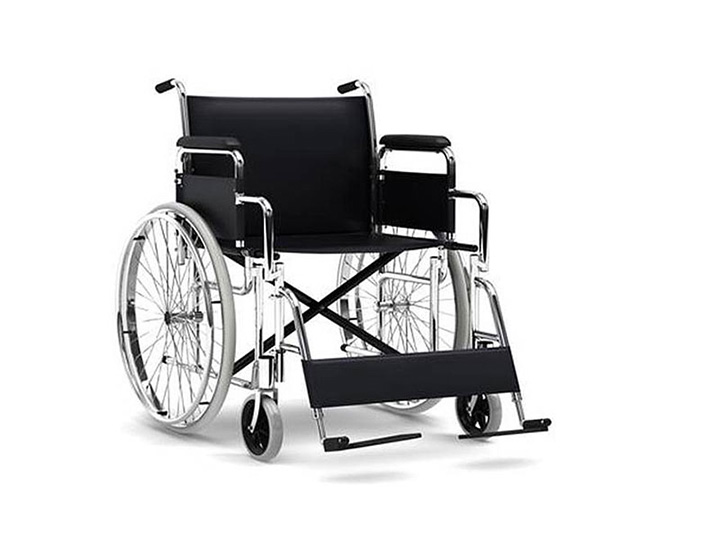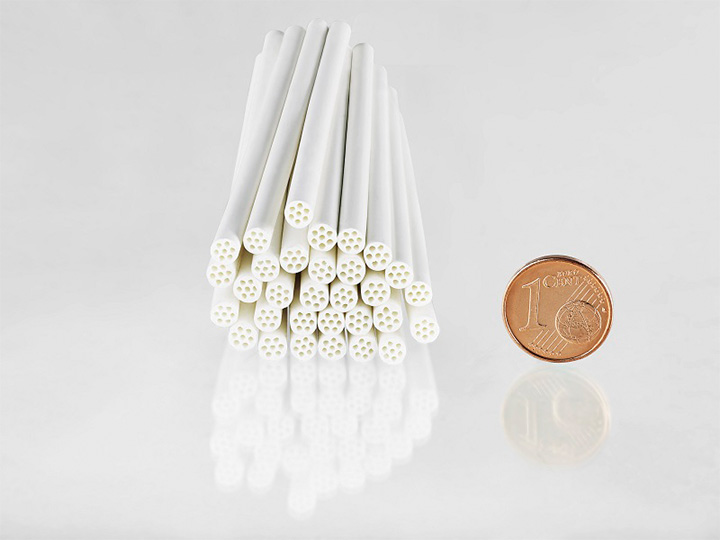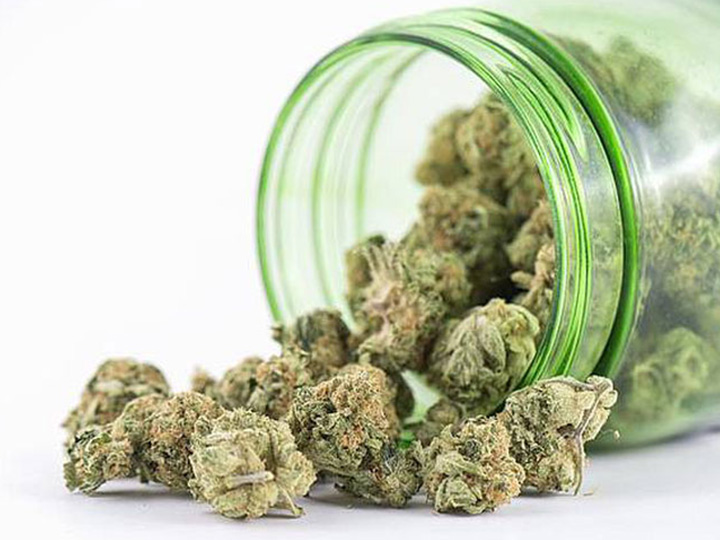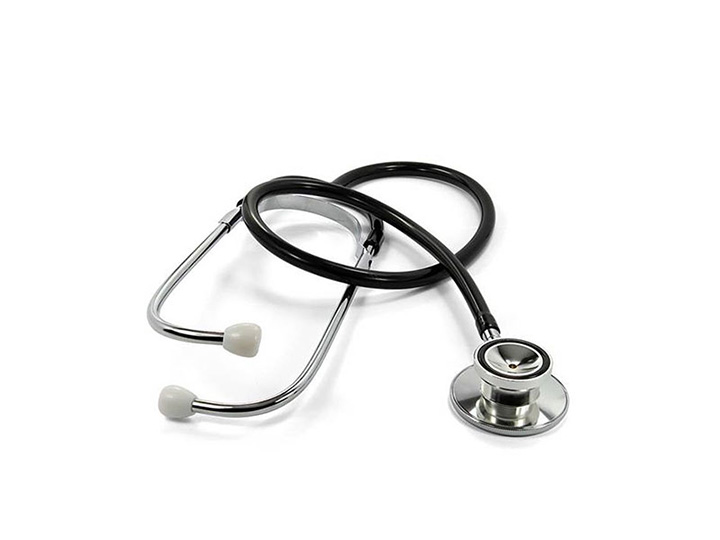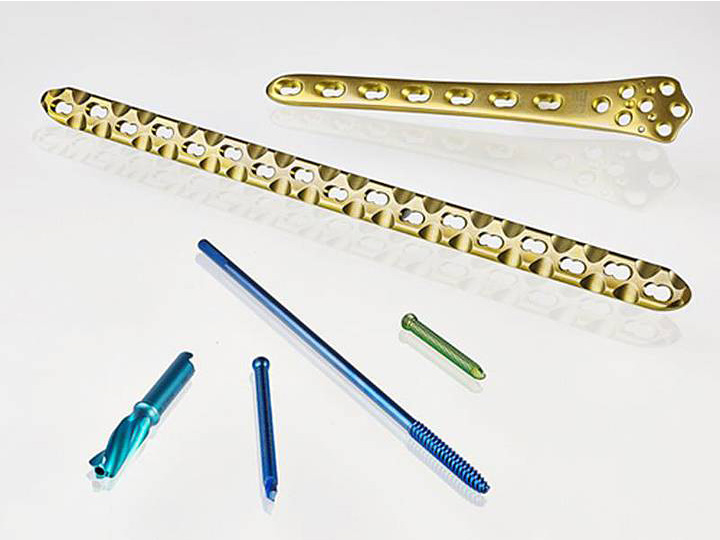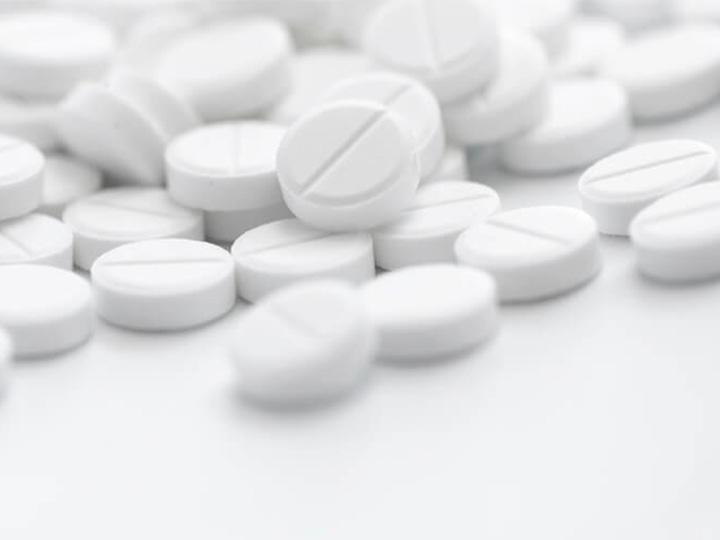 Low temperature for gentle processing
Your product is sensitive and require very gentle processing. In terms of drying, this is achieved by highly efficient dehumidification at low temperatures between 20 °C und 90 °C as required for the specific application. This absolutely stress-free low temperature drying prevents undesired heating of the materials and products.
High process reliability
Drying with Airgenex®med in the closed system ensures constant parameters, such as temperature, time, humidity, air speed and airflow rate, and makes your process independent of ambient environmental conditions. The drying system operates reliably, stabilises your production flow and, as a result, optimises your process. Airgenex®med is the answer to any quality issue in the drying process.
Independent Technology
Airgenex®med drying does not entail any interchange with ambient air. The system is emission-free and does not impair clean-room and production environments. Also, Airgenex®med drying systems are independent of the plant infrastructure.
High Efficiency
The use of heat pump technology for air dehumidification makes Airgenex®med highly efficient. Top quality drying results at short times are achieved by a perfect combination of air conditioning and air routeing fine-tuned to suit the requirements of the specific product.
Trial Drying for Best Results
Our services offered include series of tests in our pilot plant station. In these tests, we learn about your process and your product and merge our core and professional competencies with your experience. Do you want to learn more about our pilot plant station?
Cooling systems and combined drying-cooling systems
With minor modification, our Airgenex®med system may also be used for cooling if desired or required by your process. We have already realised many combined drying-cooling systems. We also offer to devise energy-efficient concepts for reuse of waste energy from the cooling process in other processes of your company.
Qualification and Validation
Our GMP service is available either as a complete package or as an individual service:
_ Preparation of specific design documents for the system including its controls:
· Design specification
· Functional specification
· Hardware design specification
· Software design specification
_ Qualification Process:
· Design qualification
· Installation qualification
· Functional qualification
· FAT and SAT plus documentation
With our energy-saving drying systems, you can gently dry many products in the pharmaceutical / medical technology sector – from the active ingredient itself to carrier materials / containers. Do you have a product other than the following examples? We are an innovative team and look forward to new tasks. Have your product tested in our technical centre without obligation. Contact us – we will be happy to advise you without obligation!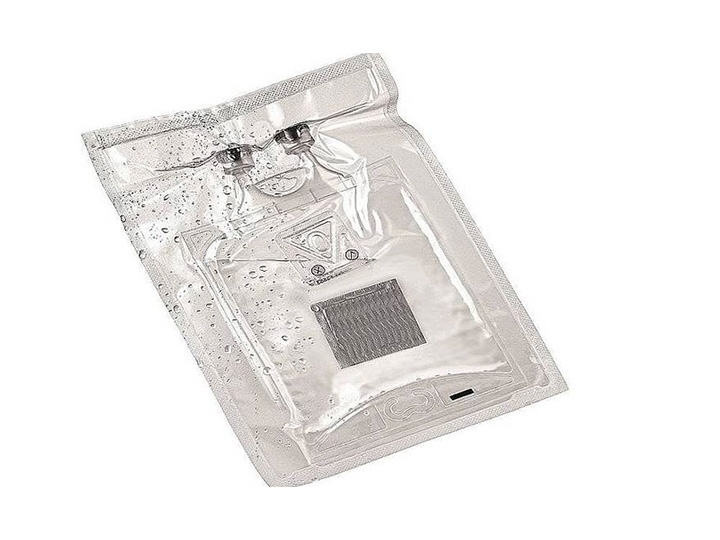 Bags and Bottles for Infusion and Injection Therapy
Your products are hot and wet after processes such as hot water sterilisation. Your polypropylene bags or glass bottles can be gently dried by our low temperature system, and cooled subsequently if desired. Our drying or drying-cooling solutions are flexible and may thus be used for any continuous or batch processes – in manual or fully automatic operation. The normal drying temperature is between 40 °C and 75 °C.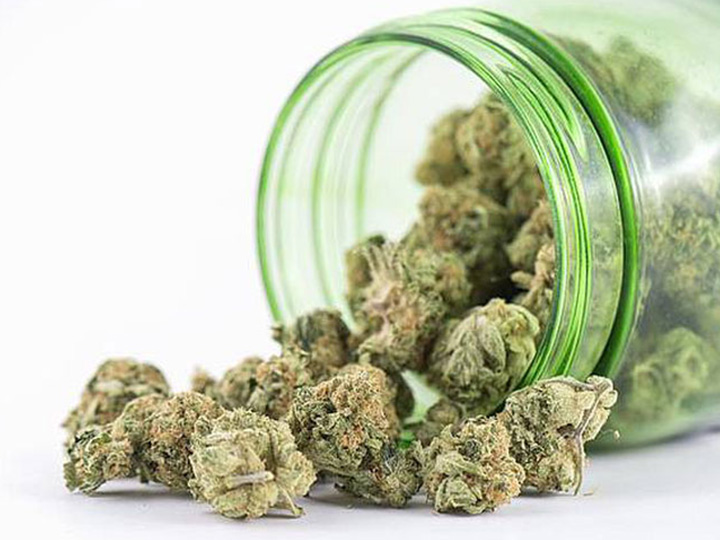 Grasses, Herbs and much more
Our gentle low temperature drying method can be much helpful in manufacturing or processing your products. Applications are multifarious and highly specific. Much so are our drying solutions. Learn more about food drying here.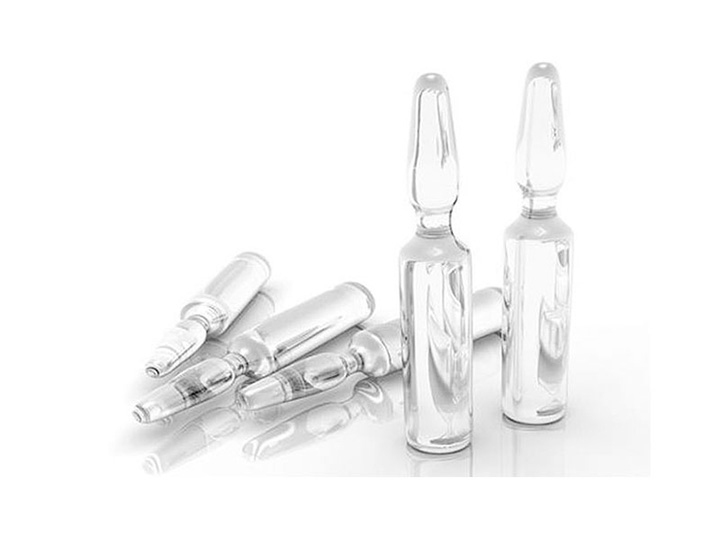 Our dryers may be used no matter if your products are made from glass, plastic or other materials. Drying is always effected at low temperatures. No matter how many ampoules or vials are placed in whatever receptacle – our solution will always ensure reliable and full drying.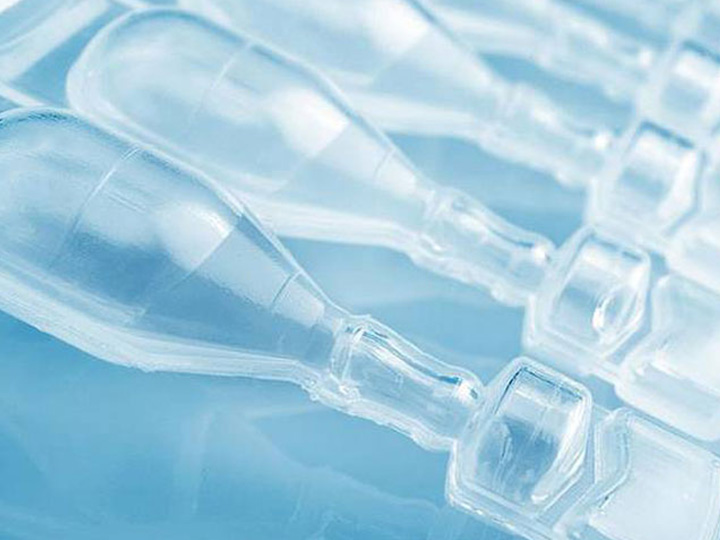 Viscous Materials / Semi-fluids / Semi-solid Pastes
A continuous (belt) drying process is recommended for such drying applications. Our low temperature method is capable of drying these substances gently, at temperatures between 40 °C and 75 °C, to the desired degree of dryness. The use of dry air combined with customised air routeing ensures uniform and exact drying results.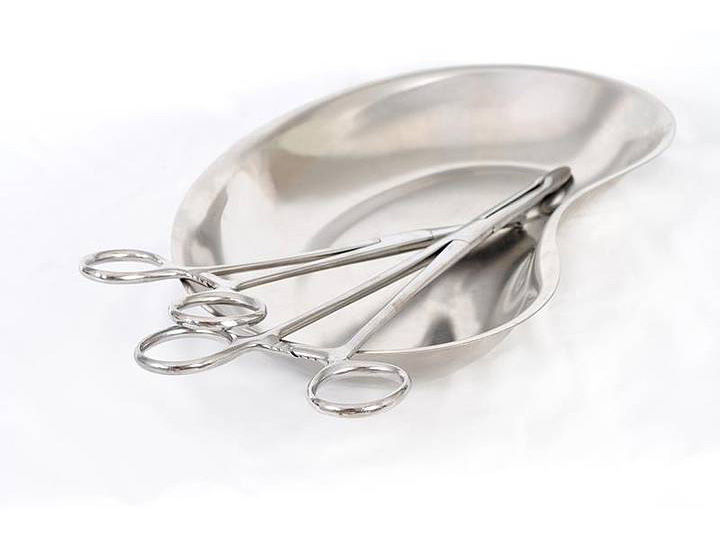 Containers, Baskets and Trays
Nach dem Reinigen, Waschen oder Sterilisieren – immer geht es darum absolut trockene Waren zu generieren, um sie für eine sofortige Weiterverarbeitung vorzubereiten. Für besonders anspruchsvolle Anwendungen, wie es bei Behältnissen oft der Fall ist, kombinieren wir unsere Trocknung mit einer vorgeschalteten druckluftfreien Abblaseinrichtung. Unser Trocknungssystem ist in jeder Hinsicht flexibel und in jede vorhandene oder geplante Prozessart integrierbar.
Items having undergone cleaning, rinsing or sterilising invariably require perfect drying for subsequent processing. For particularly challenging applications, such as where containers are involved, we combine drying with upstream non-compressed air blowing. Our drying system is flexible and may be integrated in any existing or planned process.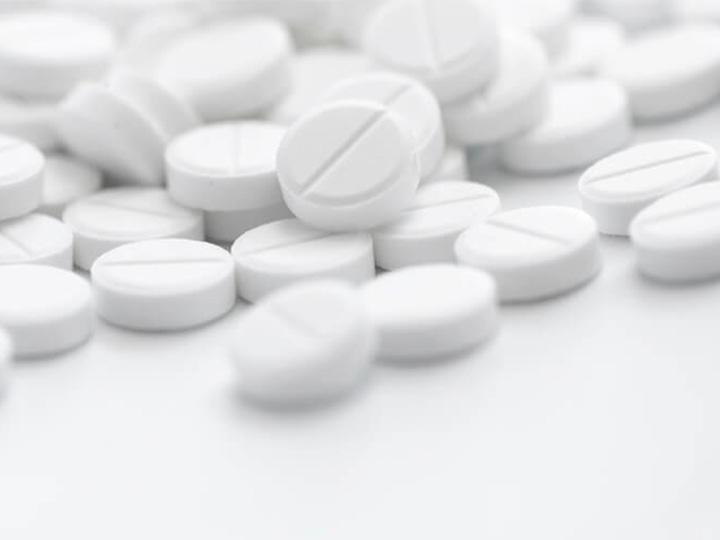 Drying is also an important step in the production of pastilles and pills, contributing to the quality of your products. On top of the benefits mentioned above, our drying method provides another bonus: Valuable ingredients and important flavours are preserved because drying takes place in a closed circuit. Also, this closed system makes drying independent of the climate and other external impacts.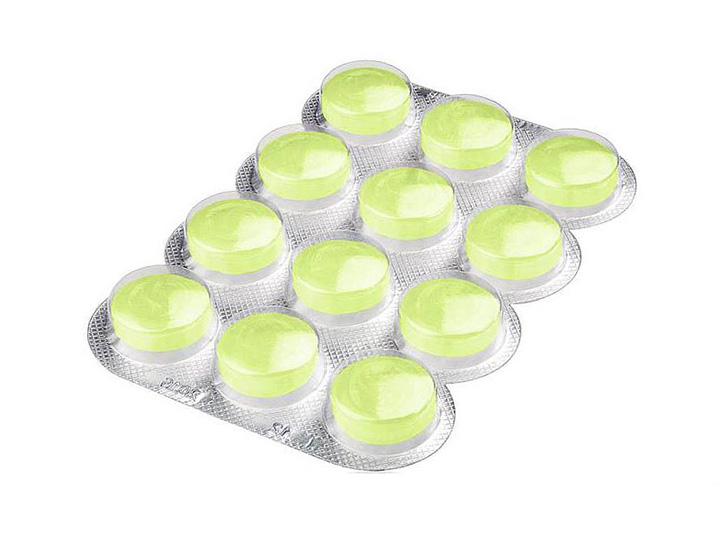 Drying drug blisters essentially requires superficial water to be completely removed while retaining the integrity of the contents. Learn more about packaging drying solutions here.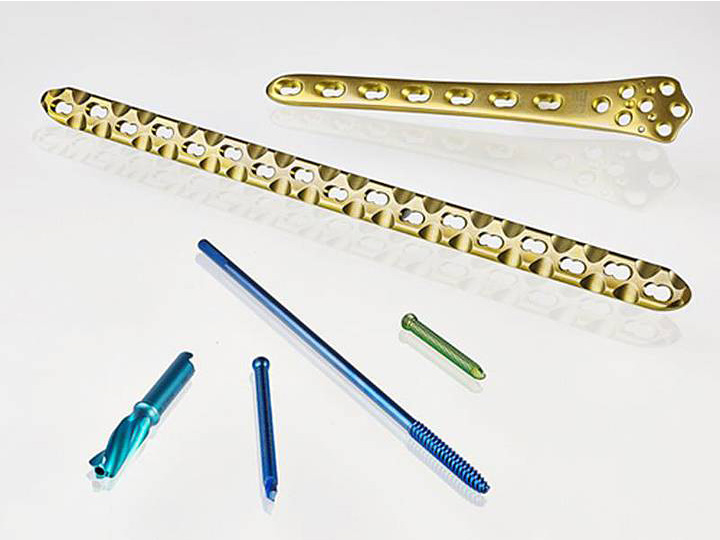 Implants and Biomaterials / Diagnostic and Surgical Instruments
Implants and instruments have special surface finishes applied which require subsequent stain-free, reliable and complete drying. Sadly, hot air blowers are frequently used for this purpose although they fail to produce the desired results. Our low temperature, dry air dryers offer the perfect alternative. Learn more about drying surface finished products here.
The success of our drying is based on a nifty combination of air conditioning and air routeing. We provide the best dyring results to you by directing extremely dry air exactly to or over the products to be dried.
Click at the numbers inside the graphic to get further information.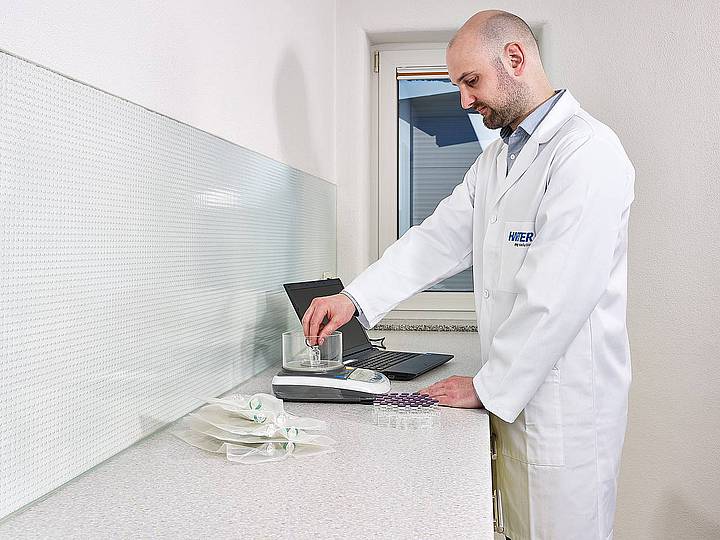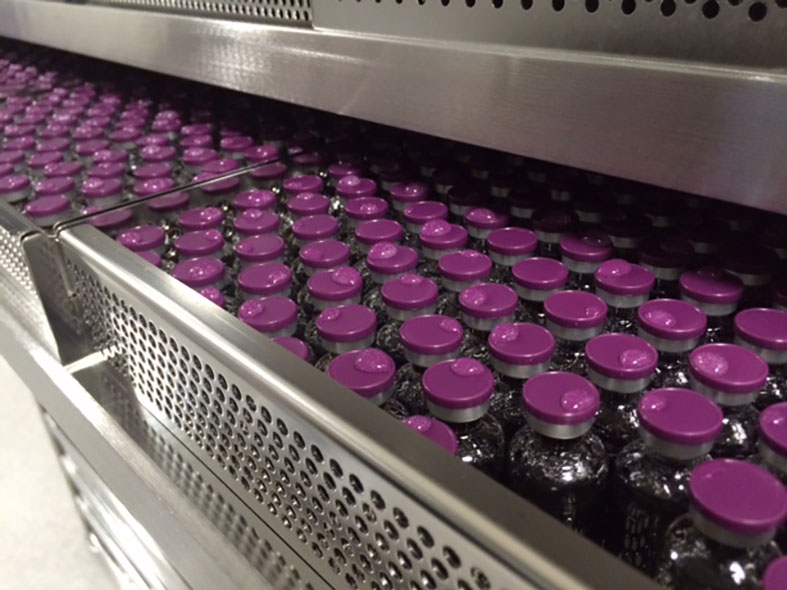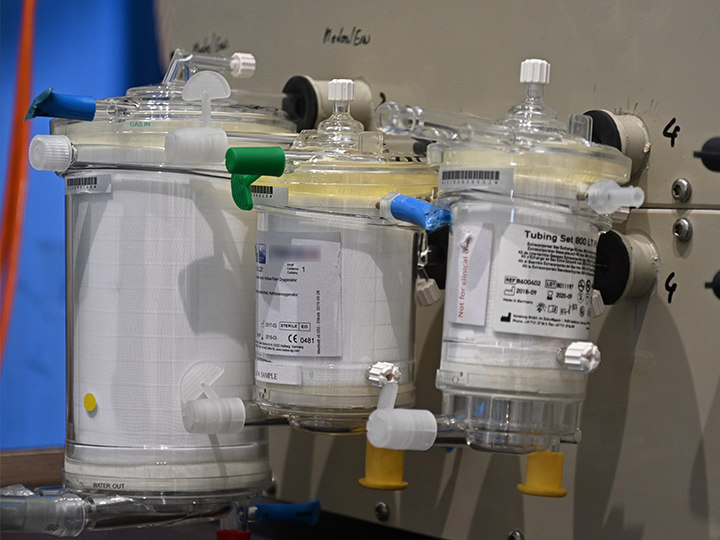 We make your good even better. Our series of tests will show you how we can do this!
Our services include series of tests in our pilot plant station. This appears to be the best method for determining the parameters for successful drying. We run these tests – which you are very welcome to witness – to identify the best temperature, humidity, drying time, air speed and airflow. The documented results, our long experience plus your know-how form the basis for further system design which will also draw on approaches for solutions in hundreds of various projects.
"We take off our business suit and put on an overall to elaborate, with much creative effort, a solution within the limits set by your budget."
Learn more about testing of packaged products here. If you are interested in drying a bare product, please do not hesitate to contact us. Pharmaceutical applications are multifarious – much so are our technical capabilities!
Creativity in tackling challenges
You have a different or larger scale work for us to do? Welcome! Building larger scale test set-ups may be agreed. Analysis results will then be reflected in our planning and manufacture. Contact us!

Are you interested in our solutions for drying of pharmaceuticals and medical devices?
Contact us. Our technical sales team will be happy to provide you with initial information:
+49 (0) 83 83 / 92 23 24 | info@harter-gmbh.de

Are you already using a drying system from HARTER and have questions? Do you have any questions regarding maintenance, spare parts service or repairs?
Then Yasmin Keckeisen and Lisa Reichart will be happy to assist you in our after-sales service:
+49 (0) 83 83 / 92 23 20   |   ass@harter-gmbh.de
We are there for you by phone from Monday to Thursday from 8 a.m. to 12 p.m. and 1 p.m. to 4.30 p.m. and Friday from 8 a.m. to 2 p.m.

Would you like to find out more about our products and our company?
Find our brochures, technical reports on our projects and reports in the trade press here.
Compact chamber dryer H01 compact
(published in Industry 24 h, February 2019)
Pharma drying: Interview with George Robinson, RavenQuest CEO, on medical hemp / cannabis
(published in: Business Elite Canada, July 2018)
Pharma & Food drying: Drying without unnecessary Heat Stress for the Product
(published in: process worldwide, August 2017
Pharma drying: Gentle and Reliable Drying – Innovation for Pharma Products
(published in: reinraum online, February 2016)
We have successfully installed more than 2,000 drying systems to date. Here is a small selection of references.